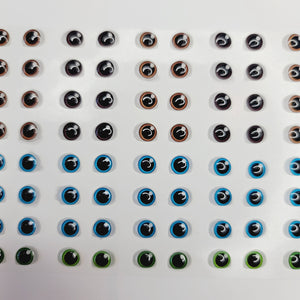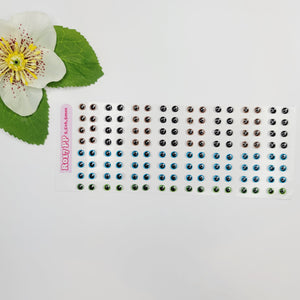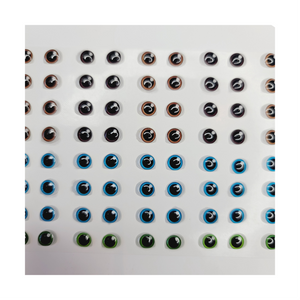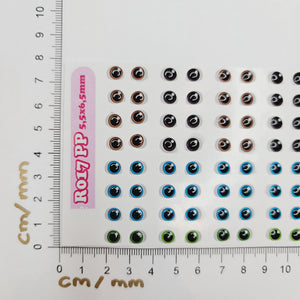 DESCRIPTION:
Resin Adhesive Eye Card. Sturdy, already cut out, and fully waterproof. Made with a layer of resin (high relief that mimics glass). Recommended mainly for pieces modeled in cold porcelain air dry clay, but can be used without any modification or additional care in handcrafted pieces made of EVA, Felt, Fabric, Plaster, Polymer Clay, and others.
We do not recommend using varnish or any other product on the eyes. They are already coated and durable. There is no need for any additional care.

Obs.: If you need to apply a varnish layer on the completed piece, protect the resin to avoid damaging your product. 
COLORS
Assortments: brown, green and blue.
SIZES AND QUANTITIES
Mine - Measure: 4.0x5.0mm. Suitable for Styrofoam balls from 25mm to 35mm; 72 pairs.
PP - Measure: 5.5x6.5mm. Suitable for 20mm styrofoam balls; 72 pairs.
P -
Measure: 6.5x7.8mm. Suitable for Styrofoam balls from 25mm to 35mm; 64 pairs.
NOTE. Indication of Styrofoam balls based on our personal modeling. It may vary from person to person. Check the size in millimeters if in doubt.
Obs. Adhesives are subject to slight color variations due to the graphic printing of the production process. Images of the advertisement merely illustrative.