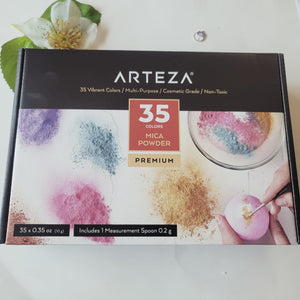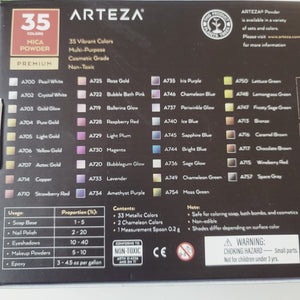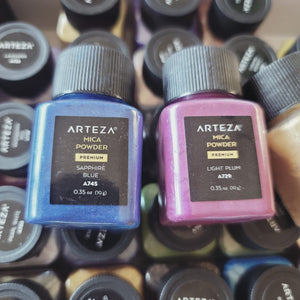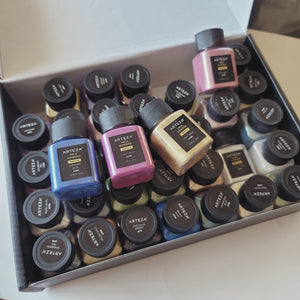 35 Vibrant Colors
Multi-Purpose
Cosmetic Grade
Non-Toxic 
35 Unique Colors - Comes with 33 metallic colors and 2 chameleon colors (0.35 oz / 10 g each)
For a Variety of Uses - Add these eye-catching colors to nail polish, slime, polymer clay, resin, candles, pouring acrylics & more
Measurement Spoon Included - Get the right proportions for the DIY project you're working on
Cosmetic-Grade & Non-Toxic - Adheres to ASTM D-4236 and EN-71 standards, making it suitable for artists of all levels
 Add a boost of shine to your DIY projects with mica powder - set of 35. With 33 metallic and 2 chameleon shades, you can make your creations stand out. Each set comes with a 0.2-gram measuring spoon to help you scoop out just enough for your project. You'll find that even the smallest amount of powder will produce stunning results. Mix these powders right into slimes, resin, paints, polymer clay, candle decorations, and so much more. You can even blend colors together to create custom shades and develop one-of-a-kind crafts.
When you're done, simply place the cap back onto the container and you'll be ready to move on to the next color or project. You can be confident that these powders will retain their vibrant color once added to your medium of choice. Plus, they're non-toxic, so creators of all levels can enjoy using them. Organize and store your set easily with the convenient container it comes in, and start creating brilliant DIY creations.
Please Note: This Mica Powder is ethically sourced and comes from a facility in the People's Republic of China that certifies that the product was obtained without the use of child-labor.
Allow your artwork to really shine by adding our professional-grade mica powders to your art collection. This set of mica powders was designed with all artists in mind, as well as those who don't even identify as artists. Indulge in your creative side with this must-have set of 35 mica powders. Our mica powders can be used alongside pouring paint to allow your paintings to really stand out, or perhaps you're looking to make your homemade slime even more mesmerizing. Our mica powders really can do it all, see for yourself by ordering this affordable set of 35 premium mica powders to use to create even more dazzling art pieces this new year.