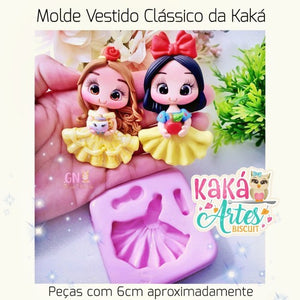 Mold creations are approximately 6 cm in height.
Easy-to-use, high-quality silicon mold to create the perfect cold porcelain clay dolls. Molds are ideal for soap creation, party favors, event decorations,  jewelry, accessories, inedible cake decor (remove before consumption), scrapbooks, and much more!
 Ideal for use with modeling clays (air dry, polymer, paper, metal, liquid, and wood clay) and resin (epoxy and UV). 
DO NOT USE these molds for food preparation. 
Care Instructions:
Before first use, gently wash with soap and running water.

Do not clean mold in the dishwasher or use this mold inside or on top of the oven.

After drying, condition your mold with a dab of baby oil or lotion, cooking oil, or non-stick baking spray. Gently wipe off any excess.

Refrain from using harsh chemicals to clean your mold, as they can cause damage.

Avoid using the mold with long sharp nails or other sharp objects as it can rip the mold.
Made in Brazil 
Cold porcelain air dry clay samples are not included. Mold color tones may vary.
**Photos are for illustration purposes only. Each clay used for illustration purposes might be created using a different combination of molds, or some parts of each clay might be designed manually.